Pop-ups have been misunderstood for most of their lifetime. They have a negative connotation hanging around them as being pushy and annoying. However, implementing them the right way will make them your new best friend and lift your business to higher grounds. They can help you identify your customers that would otherwise remain unknown and get you to lead them over the edge towards your desired conversion. 

1. Capture valuable leads
One way to stay in your audience's mind is by offering them something worth their time and helping them reach their desired goal. Give an immediate solution to their problem with powerful lead magnets. These can help you attract the kinds of customers who may already be interested in your offer but still need to learn a little bit more about it first. Educating them first often gets them to your desired conversion. 

In B2B-focussed industries, powerful lead magnets like ebooks, whitepapers, or case studies furthermore help you position yourself as an industry expert and create trust in your brand and knowledge. Attractive lead magnets for B2C markets could be deals, blogs, ebooks, or exclusive content.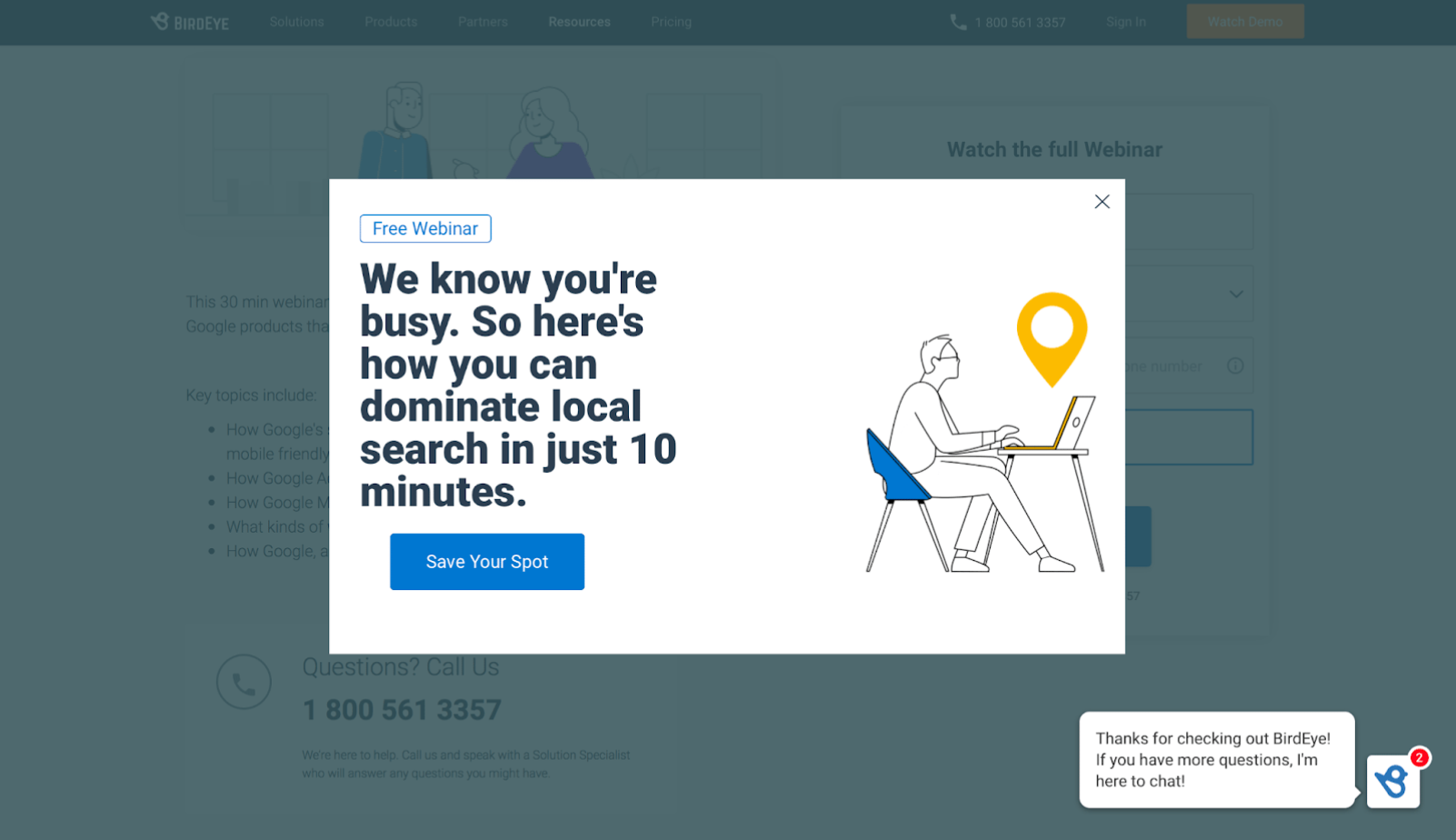 Other popular lead magnets could be one-time events such as webinars or online events where time is of the essence. These create a sense of urgency and usually lead to higher conversion rates.
Your most valuable lead magnets might not be immediately visible to your audience. Use a pop-up to offer the lead magnet and capture email addresses. After this, they'll receive an email with your content attached, and you can retarget them later on with follow-ups. 
Sharing your knowledge is one of the most powerful incentives because it shifts the narrative from the price to the value of the product or service. It warms your audience up for the value your company brings to the table rather than just focussing on the product and its features. 

Furthermore, powerful incentives keep your business in both their short and long-term memory and create reciprocity. We have a natural tendency to do something in return for someone that has done something for us first.
2. Act as a helpful salesperson
The big difference between in-person and online services is that there isn't a helpful salesperson who welcomes you and asks if they can assist. This may cause your audience to be a bit overwhelmed by all the options your business has to offer and might lead to them totally freezing and abandoning your website. Humans hate choosing because it's in our nature to want every possible option. We often wonder 'What if I had made a different choice' whenever we're overwhelmed by too many options and have to choose one of them. 
Narrow the visitor's attention with a pop-up that guides them to the right product, job opening, or any conversion that might be useful to them at that specific moment and eliminate possible distractions that keep them from converting. Fight the paradox of choice by simply offering just what is relevant to someone and leading your audience to the right choice.
Another critical task your pop-up could take over from what would typically be a salesperson's job is upselling or cross-selling other products your business has to offer. Whenever someone adds something to their shopping cart, a pop-up can help you recommend other products or services that could enhance your customer's purchase. 
Let's say I bought a new iPhone. Recommending AirPods or a charger would be very valuable to my purchase since headphones and power adapters are no longer included in the packaging anymore.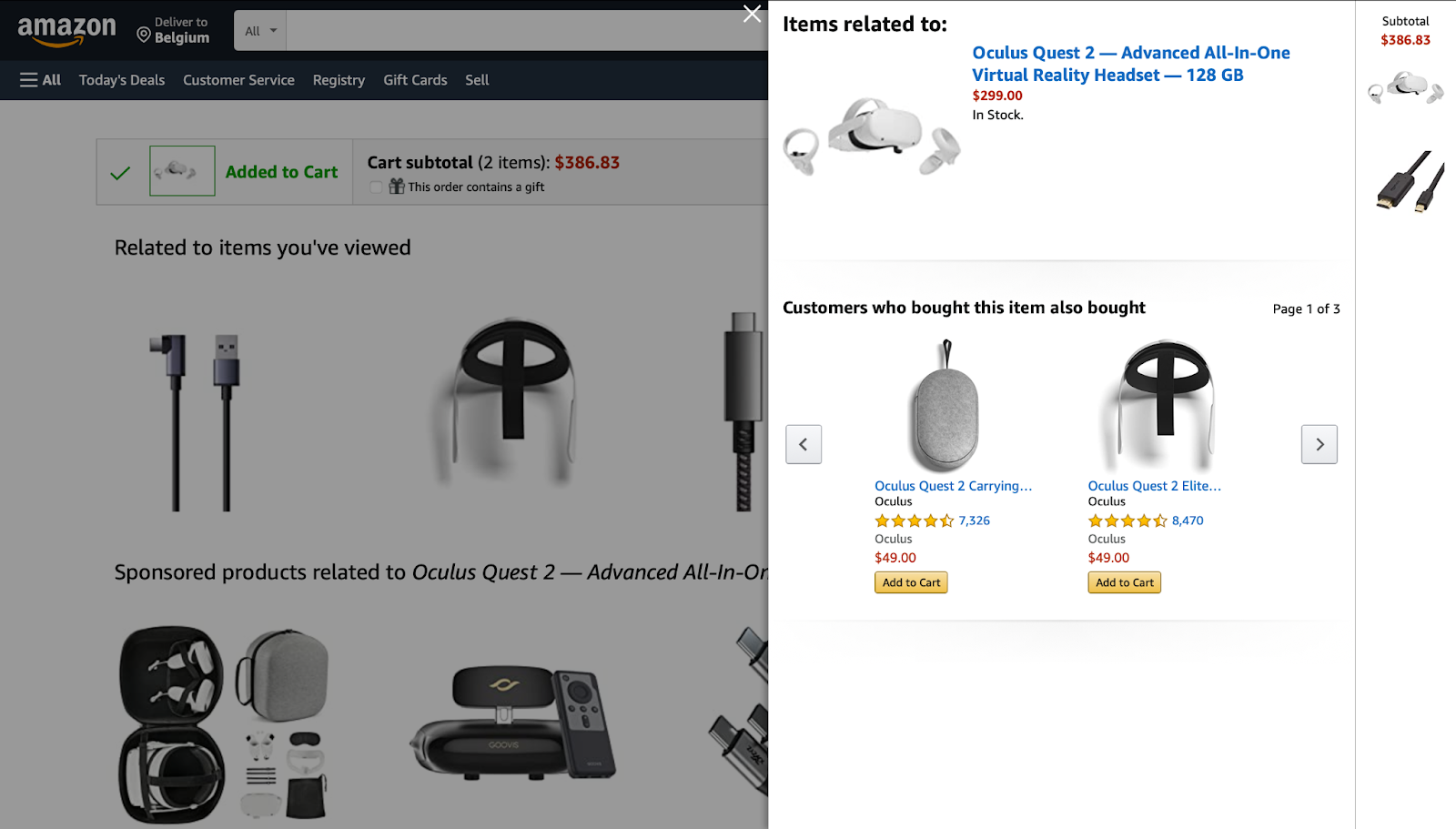 This practice doesn't only work in e-commerce; it can be very effective in other industries like recruitment as well. Your visitor might have clicked a job opening on your website but doesn't fit the requirements. Recommending similar jobs and leading them to other relevant vacancies not only lands you a possible candidate. It also gets them to see other options that might be the right fit for them, and they otherwise might not have found. 
3. Push your audience over the edge
Pop-ups are the ideal tool to give you a second and often last chance to get your audience to convert. Make sure to use the right triggers and use them at the right time to let the message be as relevant and valuable as possible, especially when someone is about to leave your website. 
When looking at e-commerce, pop-ups are one of the most effective forces to get customers to convert when they are about to abandon their shopping cart. One of the most common reasons we abandon our carts is when we notice we have to pay for shipping because this feels like an absolute waste of money.
Encourage your potential customer to finish their purchase by showing them a pop-up that offers 'free shipping when you subscribe to our newsletter' or shows them a product of the exact amount they're missing for free shipping and get them to convert anyway end. Make sure the recommended cross-selling is relevant to their initial purchase, though. 
Another possibility would be to retarget your customers that forgot to complete their purchase. Redirecting them to their previously filled shopping cart when they revisit your website makes it easier for them to complete their order. This way, they won't have to go through the complete process of filling their baskets again and can easily finish what they started earlier. Make their journey as easy as possible and get them to convert as quickly as possible.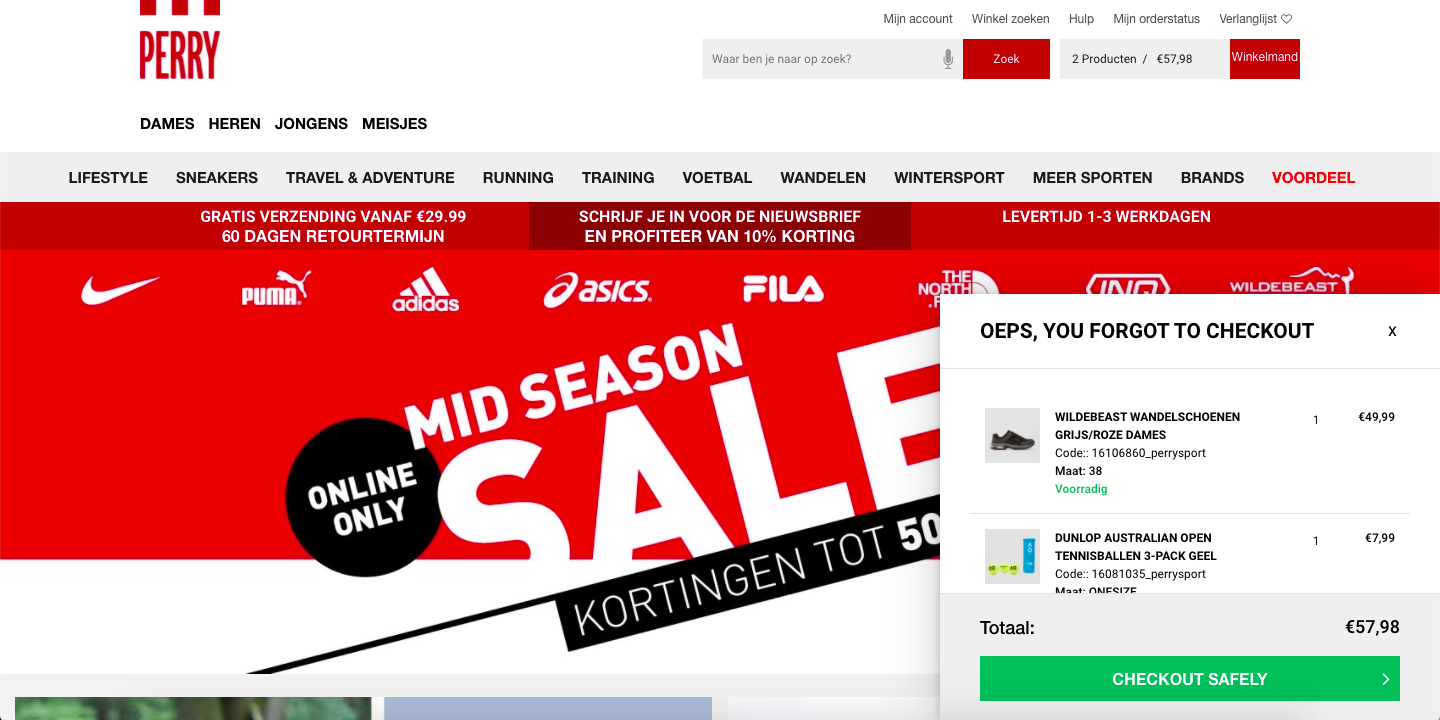 Another way to capture your audience's information with pop-ups is by offering them something they can't refuse. Play into the basic assumption that we always strive for loss aversion. We have a natural fear of losing or missing out on something and try to avoid this as much as possible. You can easily play into this with coupons, time limits, and scarcity to create a sense of urgency. Showing a pop-up with 'Don't lose out on x% off your first purchase' or 'Don't lose your x% discount, subscribe now!' is a great way to trigger loss aversion and immediately gives you some extra subscribers to your newsletter. 
In the recruitment industry, the extra push your audience might need is redirection to another relevant vacancy or an article explaining how to prepare for a job interview properly. If your audience has clicked through to a few of your recommended vacancies and still haven't found the one they were looking for, you can get them to subscribe to a job alert through a pop-up. This form will register their email address and gives you the chance to retarget them later on with relevant blogs or vacancies.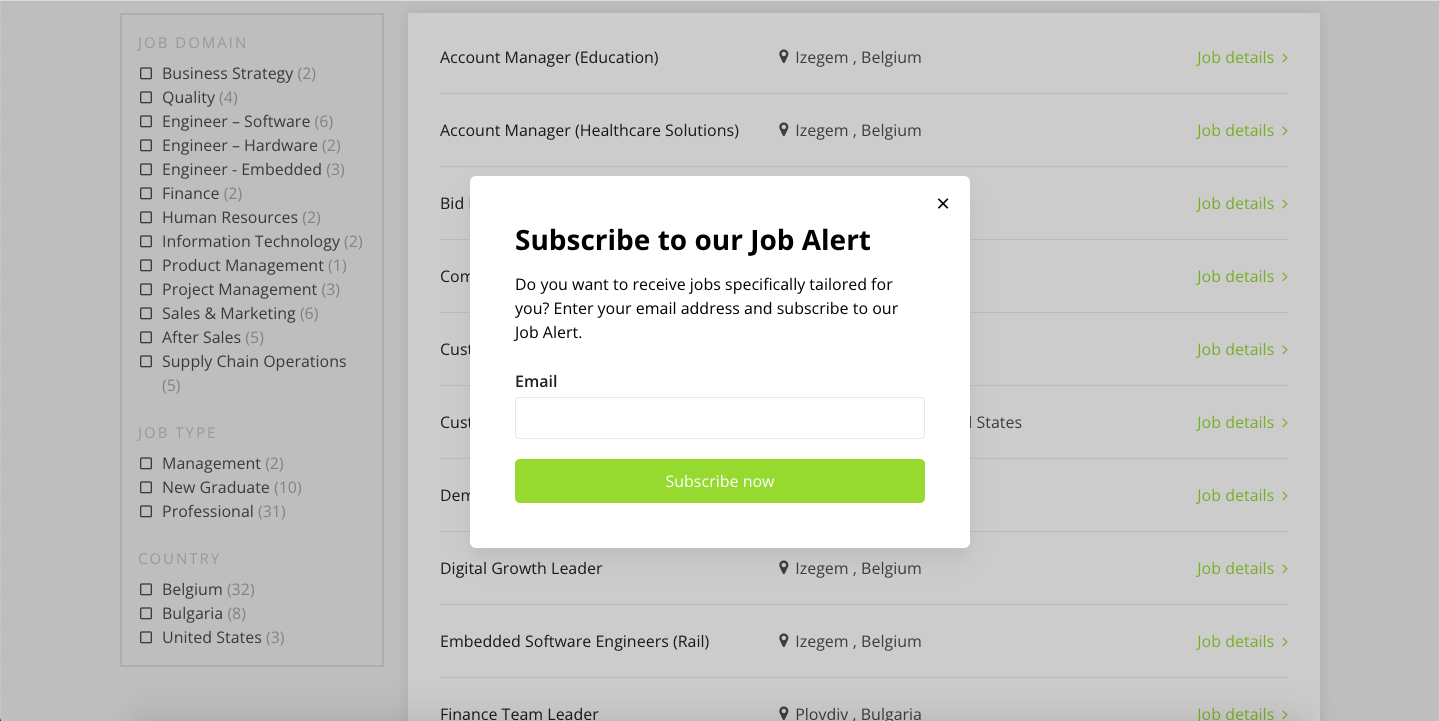 Give your audience the feeling they might miss out on something big and use pop-ups as your worthy warriors that fight exit-intents. 
4. Give them everything you've got
One final and extremely direct way to use pop-ups is to push through a specific message that needs to be delivered to your entire audience, rather than just a segment of it. This can be a particular sale that you need to get rid of or a vacancy that desperately needs more applicants. Be careful when implementing this strategy, though, as it can scare your possible clients away. 
Pop-ups can be used with different strategies, as you can see, and can really uplift your conversion rate without them being inconvenient. First impressions are hard to change, so make sure to make them as relevant as possible to your target audience and avoid any potential annoyance.